The cool summer winds of the hills, the misty allure of the greens always call out to the yearner. And, when you decide to escape the hustle bustle of city life and gather all resources to run straight for the hills, you wish for a gastronomical experience suiting your pursuit of happiness. Here's where these adorable hill cafes come into play. Bringing with them novel ideas, droolworthy food, as well as an enchanting ambience, they create a heady atmosphere of amour (love).
Here are six cafes in the hills that you must absolutely make a trip out of.
Cafe 1947, Manali
From Nirvana tea to Metallica Pasta, Cafe 1947 offers a variety that makes deciding what to eat very hard. Situated on the banks of river Manalsu, the cafe offers a comfortable, relaxing and cozy atmosphere. Named after the year of Independence, Cafe 1947 branches out and encourages not just the freedom of your taste buds, but also the freedom of your mind. The highlight though is its penchant for music.
A constant host of live music performances, the cafe is referred to as Manali's first music cafe. Good food, amazing locale, great hosts and upbeat music makes this a must stop to please your appetite and soul.
Drifter's Inn and Cafe
One's trip to Manali is incomplete without a trip to Old Manali, and one's trip to Old Manali is incomplete without a visit to this cafe. A cozy, conversation stimulating cafe, Drifter's Inn and Cafe has all the accessories that you need to unwind, rewind and fast forward. From board games to acoustic music and karaoke opportunities and a to-die-for menu, this cafe is perfect for a day's worth of an outing.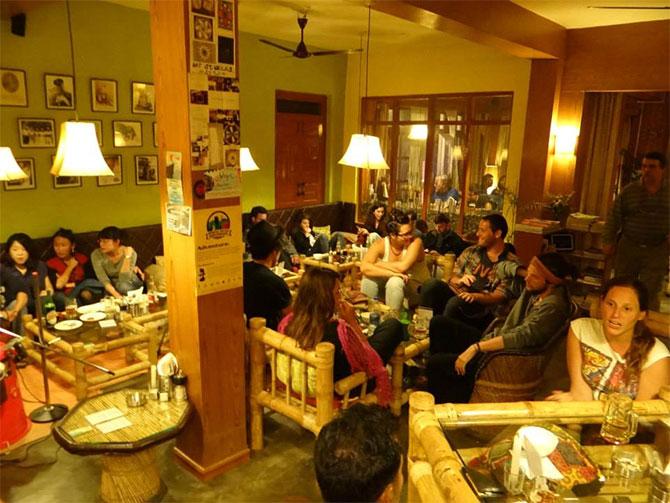 Sakley's, Nainital
A little on the higher end of food prices, Sakley's is now of those cafes in the hills that offers everything from Indian to Continental. Known to be the provider of the best Chinese food in Nainital, the quantity and the taste alone will make you forget about everything you'd been thinking of before.
Also a pastry shop, Sakley's also offers a variety of baked goods and their wafting smell hitting you fresh out of the oven is bound to make you go for it time and again!
Glenary's, Darjeeling
Toy train, green hills and aromatic tea! Darjeeling is very rightly called the Queen of the Hills. If you were to go to Darjeeling, a common recommendation would take you straight to a British era, white and red coloured building. This iconic building is home to a delectable menu of roast chicken, chocolate tarts, creamy pasta and munch-munch more.
Established in 1935, the cafe continues to live and further the legacy and grandeur of the A.T Edwards family. You can sit here with a hot of cup of tea, and enjoy the view of the mountains. Glebery's is an everyday reminder of life truly being beautiful.
Namgyal Cafe, McLeodganj, Dharamshala
Quaint and a cozy ambience, the mountains as the view, scrumptious food and an unforgettable presence, Namgyal Cafe is as tiny as it comes, but provides an unforgettable experience.
Bookshelves teaming with books, thin crust pizzas, coffee, Namgyal cafe is a bite sized bundle of homeliness. Frequented by many foreign tourists, if you're in Dharamshala, then going here should be a part of your agenda.
Ramana's Organic Cafe, Rishikesh
Those who like to know what's really cooking, this is definitely the best place in entire Rishikesh. Standing true to its name, you get to enjoy a whole lot of fresh organic food.
From homemade soups and freshly baked goods to organically grown salads and vegetables, this place is simply awesome because everything they serve is literally grown in their surrounding gardens!You must try their pumpkin ravioli and Kale Lasagna for a delicious soul satisfying lunch.
If you liked this post, you may also read