Now that you're reading this article, I'll assume that you're curious about this Romanian beauty. Capital and the largest city of Romania, Bucharest is where the cosmopolitan vibe comes alive. It is practically the one stop for Romanian media, culture, art and industry.
The city has such an elegance about it that it had earned the name "Little Paris". For politics' enthusiasts, it is said that this city is where "unreconstructed communism meets unbridled capitalism". So, before I tell you the 10 must-dos of Bucharest, let me brief you a little about the city.
5 Basics To Know Bucharest Better
---
It is the primary entry point into Romania.
Romanian is the language commonly spoken and the closest to it is Ancient Latin. But English-speakers would not face any problem as the younger crowd speaks English fluently.
It has a temperate-continental climate with hot summers and cold winters, with brief springs and fall in April. The average highest temperature recording in summer is 29ºC and the lowest being 2ºC. While in winters, the highest is -20ºC and the lowest being -12ºC.
Bucharest is in the Eastern European time zone (UTC+2, with a DST of UTC+3 from April to October)
Bucharest is one of the safest places in Europe although you'd still have to keep an eye out for pickpockets especially in crowded places and petty thieves. Violent crimes are rare and this city is absolutely safe for solo travel.
5 Ways to Travel better
---
Buses run approximately every 20 minutes from the airport and connect the rest of the city. Although they run every 40 minutes after midnight.
Trains are another efficient means of travel. The Henri Coandă Expres is a combined transfer service by minibus then train to Bucuresti Nord station.
Taxi tickets are available from the airport and this means is the easiest to make avail of, as a traveler.
Metro or subway has four lines (M1, M2, M3, M4) and covers the city quite extensively and for travelers, this is an unusually cheap option to see the city better. (5 lei for 2 trips, 20 lei for 10 trips and 70 lei for a monthly pass).
Rent-a-car or car rental in the Pache Protopopescu Street or Europcar are all at the city and airport. Other local rentals also throughout the city. The average price for a day rental is about €20 for the cheapest car.
Now, we come to the things to do in Bucharest to ensure you take back the essence of the city. Now, Romania is one of those countries that have taken measures to preserve their old world charm and you will find a brilliant blend of history with the modern.
5 Things to do in Bucharest
---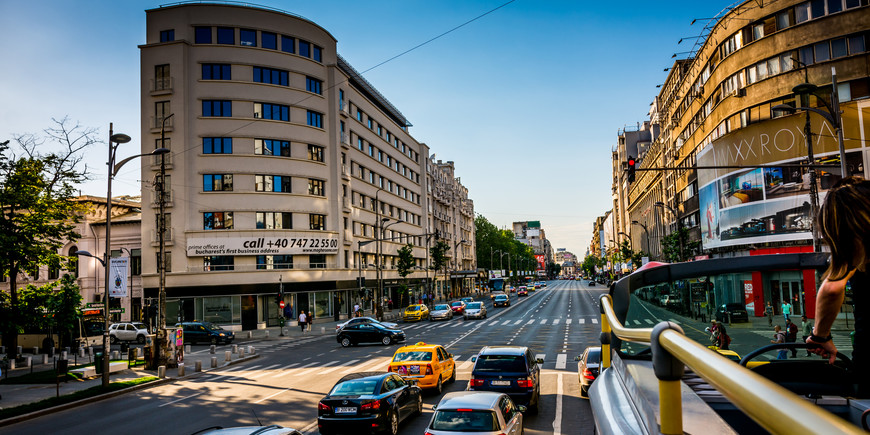 Sightseeing
Bucharest is home to not just several but multiple places of archaeological and historical interest. Surrounded by Bulgaria, Yugoslavia, Hungary and Ukraine, with a great vicinity to Turkey, various cultures have flourished and coexisted in Romania, the remains of which are evident in Bucharest. It will be unjust to not visit at least these 10 places of historical interest.
Palace of Parliament
Palatul Cantacuzino
University Square
Palatul Sutu
Attend festivals & events 
Bucharest has several art, literary and cultural festivals and events that are organized throughout the year. There is always a variety on offer and the best part about it is, no matter when your visiting period is, apart from winters as they are not the ideal tourist season, there is always an event on offer. Like-
Masters of Lyrical Art (March)
Easter Gifts National Arts & Crafts Fair (April)
Rokolectiv festival of electronic music and arts (April)
BRD Nastase Tiriac Tennis Trophy (April)
'Next' International Film Festival (April)
Bucucuresti International Film Festival (B-EST IFF) (April)
International Music Festival 'Jeunesses Musicales' (May)
Bucharest International Jazz Competition (May)
Caffe Festival (May)
Bucharest International Music Festival 'EuropaFest' (May)
---
Visit old localities and eat at heritage restaurants
Localities like Calea Victoriei or Victory Avenue, Lipscani District, Coltea Hospital (Spitalul Coltea) and the like are places that must, must be visited in order to not just get the true flavor of Bucharest but also because they have been witnesses to multiple events and cultures of historical significance!
An old favorite among the locals, this is truly one of those places that keeps the spirit of Bucharest alive and kicking! Do drop by for a couple of drinks!
Manuc's Inn (Hanul lui Manuc), was the favorite resting place for wealthy Armenian traders. It is now one of the most sought-after restaurants of Bucharest. The Beer Cart Restaurant (Carul cu Bere) opened in 1879, this famous restaurant and beer house soon became one of the most popular meeting places for Bucharest's literati who would gather to discuss matters of their time.
Built in 1914 by French architect Teophile Bradeau, the Athenee Palace (currently a posh Hilton hotel) was made famous in Olivia Manning's novel, Balkan Trilogy, as a centre of intrigue and espionage during World War II.
Go on the Danube river cruise!
The Danube enters the territory of Romania at the famous Iron Gates (Portile de Fier) and ends its 670 mile journey through the country in the Black Sea. Bucharest is only 40 miles north of the cities of Giurgiu (Romania) and Ruse (Bulgaria), both situated on the banks of the Danube. It is one of the most exotic experiences that simple CANNOT be missed.

---
Traditional Romanian cuisines
Well luncheons because I personally believe in going fine and chic when it comes to dining although lunch can be the period of adventurous exploration. So, leaving Bucharest without a visit is quite like being a spoilt sport hence I'd like to begin by a rather adventurous option before I head to the traditional, if you're game.
That is one of the most visited restaurants in Bucharest. Restaurants like Caru' cu Bere, which serves East European Cuisine and Golden Falcon which specializes in Middle Eastern cuisines are the top picks although there are a spread of restaurants that serve not just local but also global cuisine.
Now, evidently my favorite part, what are the 3 foods that should be looked for, if we want traditional Romanian cuisine-
"Tocaniţă" or "tochitură " (meat stew seasoned with onions and/ or spices), "ghiveci" (over 20 vegetables cooked in oil), "sarmale" (pickled cabbage leaves stuffed with a mix of minced meats, rice and spices) and "mititei" (The "Wee Ones" – small skinless grilled sausages) are among the favorites.
Cheese and tree bark don't seem like a natural fit. But this specialty of southeast Transylvania, especially in the towns and villages that include Moeciu and Fundata, may go as far back as the 14th century.
A long rope of sweet yeast dough is tightly wrapped in a spiral around a wooden form, something like a rolling pin,and dusted with sugar. It is then baked, slowly turning, on a rotating spit above an open flame.
That is all for now. Bucharest is a beautiful, beautiful place to visit. Great weather, great history, great culture and superb food. Hope you plan a trip soon. Until then, toodles!